SmartPad, a platform designed for the startups to raise funds in a decentralized manner, has finally been released on May 31. 
First and foremost, SmartPad is a community-oriented project. This is why fundraising was limited to community presale. Funds are too willing to dump tokens as soon as they unlock. Thus, the decision was made against it, and tokens were issued to community members only.
Unlike its competitors, SmartPad offers something unique to the launchpad space. It aims to provide users with a set of useful presale-related tools, readily available to a regular consumer, instead of positioning itself as another platform with huge paywalls and lack of decentralized approach when it comes to pool's creation. 
The pool's creation tools are already live, allowing the community members to bring in the projects they consider worthwhile. Staking program offers an option to generate Liquidity Provider token aPAD, which is going to be used in the ecosystem's governance and allow early pool participation. 
Thus, when a regular DeFi user compares SmartPad with more centralized launchpads, it stands out by offering greater availability of customizable features. In addition, the upcoming cross-chain bridge will allow SmartPad to launch projects on multiple chains at the same time, making it a very flexible platform and increasing the number of available pools for participation. 
Joining the platform now offers a great opportunity to be among the first users accepted into the whitelist, with the first big IDO just around the corner. Follow the official SmartPad channels to stay up to date with the news about upcoming IDO launches. 
Website https://www.smartpad.network/
Twitter https://twitter.com/SmartPad7
Telegram https://t.me/smartpad_group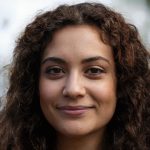 I'm a professional writer with more than 10 years of experience. I've written for both online and offline publications, including Forbes, Huffington Post, and Entrepreneur. I specialize in writing about cryptocurrency, blockchain technology, and the future of money. In addition to my writing, I'm also an active investor in the crypto space.